Cutie
If I had to choose a favorite from among my surviving cats, it would have to be Cutie, if only because she wouldn't have it any other way.
Whenever I had a litter of kittens in the house, I tried very hard to avoid naming them. Once they had a name, they became a part of the family, and it was awfully difficult to part with them, yet there are limits to the number of cats that any sane person can have at one time and, for me, five was pushing it.
Cutie and Lydia were part of a litter of four, born to Baby Girl in 199O, not long before Christmas. Once weaned, their brothers were easy to find homes for, perhaps since Baby Girl had a way of producing beautiful kittens. But I lived in the Rio Grande Valley of Texas at the time, where a common religion is Santeria and superstition is often accepted as truth, so I was cautious about giving black cats, in particular, to just anyone.
This entire litter was black, so it was more difficult to find homes for them. When they were very young, and their mother
wanted some time to herself, she had taken to placing them in a shoe box. It was precious coming home to find all four black kittens tucked away in this shoe box that I had left on the floor in the living room, so I left it there for that purpose, and Baby Girl used it often, when she needed personal time.
When I walked up to the box, all of the kittens looked pretty much alike, except that one of them was begging me to pick her up, while another would hiss at me. This was Cutie and Lydia, although it would be more than five years before I gave them those names.
Still hoping to adopt them out, but needing a reference point, I began referring to one as the kitty who loves me, the other as the kitty who hates me. That became their names, at least until I married in 2OOO, and my wife insisted that I give them real names.
The kitty who loves me became Cutie, while the kitty who hates me became Lydia. I no longer believe that Lydia hates me, but Cutie has always loved me most.
She's the one who insists on being near me most all of the time, and who gets jealous whenever I so much as acknowledge another cat, which is often, since I love all of my cats.
She's the one who pouts whenever I pet another cat before her, the only exception being her mother, to whom she gave a pass. If I walk into the house and pet the first cat that I come across, if it's anyone but Cutie, then Cutie won't let me pet her and within a few minutes she'll be fighting with whatever cat I petted first, with a partial pass to her sister, Lydia; she'll get mad at me if I pet her sister first, but will rarely fight with her sister. She didn't seem to mind at all if I pet her mom first, but if I pet Bird before her, there will be hell to pay.
Although I try to be fair, the other cats have learned that there will be consequences if they should get in the front of the line. Yeah, I know she's spoiled, but she loves me, and often shows it in nicer ways.
I keep a pad on the table next to my computer, so that she can lie on it, although she prefers being on the keyboard, or between the keyboard and the monitor, where she can be assured that she's the center of my attention. Right now, she's lying on the pad, just to the left of my keyboard, while Obadiah is on the right, and both Lydia and Bird are outside somewhere.
Often, Cutie wants to share the office chair with me. If I lean forward enough to give her room to squeeze in behind me, she'll be there. Then she'll start pushing for more room. She isn't satisfied with lying lengthwise across the back of the room, in a more equitable sharing plan; she wants to curl up behind me, which leaves me on the edge of my seat much of the time.
At first I thought that she just wanted my chair but if I go into another room, she'll give me a few minutes to return, then follow. She loves me. She really, really loves me.
Cutie was never a mom, biologically, but she did adopt a kitten that she had rescued. She wasn't with us long, but we called her the wall kitty. While we lived in Edcouch, Texas, a stray cat had kitten in the eaves of the house that we were renting. Structurally, for some reason, there must have been an opening from the eaves of the house into the interior walls, because one of the kittens fell into the wall, and couldn't get out.
I could hear a kitten crying in the wall, but the sound reverberated throughout the room, so it was hard to tell just where it was. I broke a hole in the drywall, at a point where I thought the sound might have been loudest. It was close, but a vertical support beam came between the hole and the kitten. I broke another hole in the drywall, this time on the other side of the support beam. I was very close, but the kitten was below, and to the left, and I couldn't reach it.
Hearing the sound, of course, all of the cats were there; except Bird, since she wasn't a house cat yet. Baby Girl wanted to go into the hole, and I thought maybe she'd bring the kitten back out, being a mom and all. But no, she wouldn't go any further than sticking her head in.
Then Cutie went in. She was in there much longer than I was comfortable with, and began meowing herself, so I worried that she was trapped somewhere herself. Then she backed out of the hole, carrying the kitten, as a mom would.
She was a true paramedic's cat, although I don't know what that says about the rest of them.
Cutie is more of a homebody than an adventurer, usually preferring to stay in the house, with only brief forays outdoors, and then usually within sight.
She absolutely refuses to go outdoors while there is snow on the ground, even patches of it. In the spring, here in Maine, she'll stand in the cat door, looking to see if the snow is gone. Not seeing any, she might cautiously venture outside, ever so carefully, but at the first sight of even a patch of snow, she's back indoors. Like a groundhog looking for its shadow, we know it's really spring when Cutie goes outside.
She was born in southeastern Texas, where there is no snow, ever, but so were all the others except Obadiah, yet her sister is sometimes out playing in the snow in February, with temperatures below zero. Granted, she's not there for long, but she's obviously not afraid of it.
She has had some adventures though. Before she was spayed, a few months after we moved to Maine, she was gone for more than two weeks. I had given up hope of ever seeing her again, then she showed up in the back yard, afraid of everyone, and appearing to be near half the size she was when she left. Near where we lived, there is an old fire station, used only for storage now, and I'm thinking she had managed to get herself locked in there. It must have been awful for her, but she wasn't pregnant, which was one of my first thoughts, and she made a trip to the veterinarian the following day, having the operation a couple of weeks later, once she had regained her health.
Being spayed was not easy for her, however. Whether because the veterinarian was eighty years old, or if was the luck of the draw, I don't know, but she had a couple of seizures after she returned home, and it was a long recovery. The veterinarian had a lifetime of experience, and obviously knew what he was doing, but I used someone else for operative procedures from that time on. It may not have even been his fault, but I didn't want to take a chance of putting any of my other cats through that experience.
The house that we bought in Millinocket was what you might call a fixer-upper. About a year after we moved in, I replaced the upstairs kitchen floor, and later removed the downstairs kitchen altogether.
Beneath the old flooring, there was a small hole that had once served as a heating vent. When I uncovered that hole, it crossed my mind that I needed to make sure that none of the cats went in there, especially not knowing where it led to, the house having originally been built as a boarding house in 191O. I piled some boards over the top of the hole whenever I left the room, or so I thought.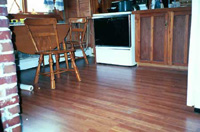 I finished the job, fairly well proud of myself. I was tired though, and my knees were sore, so I went to bed early. The next day, I had a lot of other home repairs that I busied myself with.
During the day, I noticed that I hadn't seen either Cutie or Lydia all day, but figured they were outdoors or somewhere around. That night, I began to worry.
I considered that they might have gotten into that hole in the floor, but couldn't think of a moment when I had left it uncovered and unattended; and while that was something I would have expected from Lydia, I didn't think that Cutie would follow her sister into a hole in the floor.
Still, I walked throughout the house, calling for them, listening carefully to see if I could hear them calling from within the floor, walls, or ceiling. I couldn't hear anything, so I worried that they'd both run off somewhere outside; which, given Cutie's two-week excursion the previous year, might have been typical of either of them.
That night, and the following day, I walked throughout the neighborhood, and along the railroad tracks, calling for them; and I talked one of the paramedics into opening up the old fire station, so that I could see if they were in there - to no avail.
The following night, I was in the downstairs kitchen when I thought I heard something overhead. I turned the radio off, and called for them, but they didn't answer. I wasn't sure if I had even heard a sound, let alone where it might have come from, but I listened at the walls, and put my ear to the floor upstairs.
Nothing.
Going back downstairs, I was looking up at the ceiling and, through a very small hole where four ceiling tiles came together, I saw a little kitty eye looking back at me. Tearing the ceiling tile away, I found that they were both there, but neither of them would come to me. Removing a second ceiling tile and leaning a two-by-four up against the opening so that they'd have something to climb down on, I waited. Although they'd come up to the opening every now and then, neither of them would come down.
I opened a can of tuna, and soon had the twin sisters back, both very dusty.
They had been in the floor for nearly three days, and their mom didn't even recognize them, hissing at them when the walked up to her. Until they had a bath, Baby Girl wouldn't let them near her.
While she might be a little spoiled, Cutie is easily our most civilized cat. Always using the litter box, she would never, ever, mess the floor or the carpet. Once my wife and I went to New York for a few days, leaving a two-week supply of food and water in automatic feeders, and someone to check on the house while we were gone.
At the time, all of our cats, except for Obadiah, were afraid of anyone other than myself and my wife, and most of them weren't too sure about my wife, so visitors couldn't expect to see anyone other than Obie.
What we didn't know was that Cutie had somehow managed to get locked into a walk-in closet upstairs, and had apparently been too afraid to call for help whenever someone came to check on the house. It was a large closet, having been recently converted from a bedroom, but there were no facilities there for a cat.
When we returned three days later, one of the first things we heard was Cutie calling for help from upstairs. Opening the door to the closet, she zipped past me on her way to the litter box, having apparently held it in for three days, unwilling to mess the floor of the closet.
Only after having relieved herself in the litter box, did she concern herself with food, water, and attention. I was certain that I had checked on all five of our cats before we left, so it's possible that she had gotten in at some point while our friend was checking on the house, although she insisted she had never opened that door.
It's been years since she's had any notable adventures, although she is certainly healthy and happy. Until her mom died at the age of twenty-three, I had thought of the sisters as kittens. At nearly seventeen, I don't suppose they, but they don't seem old.
Three of our four cats will be seventeen this year, the youngest being six years of age.