Lydia
Lydia is something else. I could leave it at that, but I'd hate to cheat you out of a lot of words, so we'll go with the verbiage.
Lydia was born to Baby Girl in the winter of 199O, not long before Christmas. There were four other cats in the litter, two males and two females, all black. At first, it was hard to tell any of them apart, but then the males started growing faster than the females, Lydia and Cutie, although that wasn't their names at the time.
Since I was hoping to find good homes for all four of the kittens, I put off giving names to them. Once they were weaned, the same person took both the males, leaving me with two females who looked exactly alike, or so it seemed at the time.
From the time that their eyes were opened, if not before, there was one clear differentiation. Whenever I walked up to the kittens, one of them was always happy to see me, while the other hissed.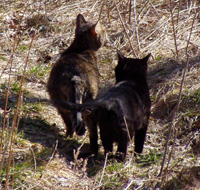 The one I referred to as the kitty who loves me, while the other was the kitty who hates me, and Cutie and Lydia kept those names until I married nearly a decade later, and my wife made me give them more normal names.
I got the last laugh, though. Lydia hates her even more than she does me.
Actually, I don't think she hates either of us, although there was a time when she truly did hate my wife. Mostly, I think she's just a scaredy cat, and more than a little flaky. Putting my amateur cat psychologist skills to use, I believe she frightens easily, and tries to compensate for it by hissing and being generally antisocial.
She hisses at me, but she never scratches or bites me, except in play, and she doesn't play very often. She usually avoids me, but when there are no witnesses in the room, human or feline, she begs for me to pet her, or to play with her, and when I do, she purrs nonstop.
When I had only one cat, I left my bedroom door open. Sometimes, Baby Girl would sleep on the bed with me, but usually she'd be there for only a little while, then go to her own place; or remember that she's supposed to be nocturnal.
With multiple cats, I don't like to leave the door to the bedroom open because they hang out there all day, and it's hard to sleep with cat hair all over the bed. Before I married, I'd often bring one cat into the bedroom with me at night, the rule being that once they got off the bed, they left the room. Cutie would usually spend the night there, sleeping under the covers near my feet. Baby Girl would sometimes stay the night, sleeping on my chest. If I got five minutes out of Lydia, I felt honored, since she'd usually act as if she were happy to be there for a just a few minutes, then politely, even apologetically, ask to leave.
She doesn't really hate me at all, but she's uncomfortable, not very trusting, and maybe afraid of being close to me, the human she's known all her life. She's also not overly affectionate with other cats, except for her mother, to whom she was the best daughter in the world, and, to some extent, her sister. She spends most of her time by herself, and usually under or behind something, so that she can't be seen.
That theory doesn't pull all the pieces together, however. While she seems to be afraid much of the time, she's the cat most likely not to come home at night, and I've no idea where she goes. When she is out during the day, she usually lets me walk up to her, and will come when I call her; not all the way, but close enough so that she can lay claim to obedience. But if I can't get her in by dusk, the chances are very good that she'll be out for the night.
Yes, I know about foxes, coyotes, and things that go bump in the night, and I hate it. She's out right now, in fact; and it's already going on 1O:OO p.m. I'll be up and down throughout the night, going outdoors, calling her softly, so as not to wake the neighbors; but, while that is sometimes successful, the chances are very high that I won't see her until after daylight, when she'll be waiting at the back door.
She has a way of knowing when I'm planning on bringing her in for the night, and doesn't let me get close enough. I only let them out during the day, and then only when I'm going to be home. I check on them often throughout the day, and she's nearly always within sight, or will come when I call her. I don't know where she goes at night; maybe she just hides in the dark, and doesn't go anywhere at all, since it's pretty hard to find a black cat in the dark unless she wants to be found.
Lydia is a difficult cat, and would probably not be one who could be easily adopted out, not that I would ever agree to that anyhow, since she's been as much a part of my family as anyone else for nearly seventeen years now.
For the first ten years of her life, I was single. When I had company over to the house, which wasn't often, they wouldn't see any of my cats, because they'd all hide. Lydia would hide even from me.
While I was single, she wasn't quite as difficult as she later became. High on the list of things that I wish she still did is using the litter box.
She knows how to use the litter box, since she used to use it. She never did learn to cover, but her mom or sister would take care of that matter for her. For the first ten years of her life, she used the litter box dependably.
That changed when we got married, although I'm not sure why it has continued. At first, it was a protest, and it should have worked. I think that if our marriage could survive the first couple of months, it can go the long haul.
The day that my wife moved into our house, she got up from the couch, went into another room, and returned to find that Lydia had crapped on couch, right where she had been sitting.
It got worse.
She crapped on her luggage, her shoes, and anything of hers that was within crapping range. It was awful, and the reward-punishment techniques that can be used to housebreak a cat didn't work, perhaps because she knew darned well what she was doing. She was sending a message, and communicating it quite clearly.
She finally got over that, and doesn't seem to particularly hate my wife anymore, but neither has she gone back to using the litter box, at least not reliably. She might do fine for several months, then refuse to use it for awhile, opting, instead, for the bathtub.
I don't think she's angry with anyone anymore, but just doesn't want to share a litter box with the other cats. I have a large cage in my office, with a litter box in it, and sometimes she asks to go in there. If she's able to get out during the day, she's usually okay through the night.
I don't want to make too much of this, since Lydia is much more than a behavior problem. She's a troubled kitty perhaps, but she's been my kitty for nearly seventeen years now, and there's a lot of good in her.
I look to the many special times when, if there were no witnesses in the room, Lydia might lie next to me on the couch, or want to play, always purring loudly during these fragile moments, which would nearly always end just as soon as another person, or cat, entered the room.
I have to laugh when she crawls under the couch cover, so that she can lie next to me and still have a degree of separation, and if put my ear to the lump in the couch that I've come to refer to as "my hump," I can hear the sound of a happy cat purring.
I think to just last night, when I got up early, bringing a pillow and a blanket, and slept for a few hours next to her, as she kept a fabric line of separation between the two of us, and when I would wake up, from time to time, I could hear her purring loudly.
Then, especially given our recent loss of her mother, Baby Girl, I'll never forget that she couldn't have hoped for a better daughter than Lydia.
Baby Girl may not have been the best mom in the world, but she was always a mom; and while Cutie didn't always want to be a daughter, Lydia was always there for her mother.
Lydia had only one litter of kittens in her life, but she was a good mother to the three of them, and to her own mother's last kitten, who she took in, and nursed as if it were her own. I wish I had kept one of Lydia's kittens now, since none of my cats will ever have any more, having had the operation.
Even in her last days, when her cancer led to a secondary infection that overwhelmed the antibiotics I was giving her, and she didn't smell very good, Lydia cuddled up to her mother every night. When her mother could no longer clean herself, Lydia tried.
I still hope to figure out her problems one day, but I won't let them define her. If your son, daughter, brother, or sister had emotional or mental problems, you would still love them, and you'd very likely be aware that they are more than their problems, and be able to appreciate the good that is within them.
If I have to clean the bathtub every morning for the rest of her life, I hope she has a long life.
I wouldn't want to forget the little adventure she and her sister had, crawling into a hole in the kitchen floor that I was replacing, and being stuck there for three days. I won't repeat the whole story here, since I've already told it on Cutie's page but, for the record, I strongly suspect that Lydia led her sister into it.
Only a few months after that, while someone was remodeling our upstair's bathroom, Lydia managed to get herself locked up into the wall, necessitating the removal of a sheet of drywall that had already been placed and painted over.
If there is a dark, quiet, place to be found, Lydia will be there.
In the family feline heirarchy, Lydia has pretty much opted out of the competition. Were it simply a matter of strength or endurance, I'm sure she'd do well, but she is either unsure of herself, or disinterested in feline politics. Unless she really wants something, she defers to any other cat in the house, letting even the youngest pick on her.
Unless she needs some warm bodies around her, she stays pretty much to herself now that her mom is gone. When it's cold in the house though, Lydia is as likely as any to be in the middle of the huddle; but she'd prefer to be under a blanket.
That's where she's been all morning, having been out all night last night.